Next upgrades sales and profit forecast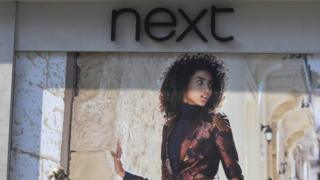 Fashion retailer Next has upgraded its forecasts for full-year sales and profits after seeing "encouraging" trading over the past three months.
While the retail environment remained tough, Next said its prospects appeared "somewhat less challenging than they did six months ago".
Next now predicts full-year profits of £687m-£747m, compared with its previous estimate of £680m-£740m.
Its forecast came as it reported a 9.5% fall in half-year profits to £309.4m.
The retailer admitted that the first half of the year had been "difficult", but said sales and profits for the period were in line with its expectations.
Sales growth at Next's online Directory business helped to offset falling sales at its High Street shops.
The retail business, reported an 8.3% fall in sales for the six months to 29 July and operating profits sank by a third to £89.5m.
The company said the drop in profit was due to a "combination of falling sales, a large fixed cost base, some one-off increases in costs and higher markdown costs".
However, its Directory business reported a 5.7% increase in sales, with profits up 6.3% to £217.1m.
Next is now forecasting that its growth in full-price sales – which excludes discounted clothing – will be between -2.0% and 1.5% for 2017 as a whole, compared with its previous estimate of between -3.0% and 0.5%.