Barack and Michelle Obama's official portraits unveiled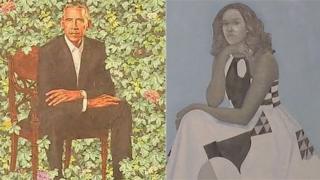 Barack and Michelle Obama have attended the unveiling of their official portraits at Smithsonian's National Portrait Gallery in Washington DC.
Mr Obama said his portrait by Kehinde Wiley, who is known for his Old Master-style depiction of African-Americans, was "pretty sharp".
"Wow!" said Mrs Obama of her portrait by Amy Sherald, another black artist, whose work addresses social justice.
Steven Spielberg and Tom Hanks were among guests at the unveiling.
"Nobody in my family tree as far as I can tell had their portrait done," said Mr Obama as he joked that his yearbook picture was the closest he had come.
He also praised Ms Sherald's painting for capturing the "hotness" of his wife.
Mr Obama said Mr Wiley had been "working at a disadvantage because his subject was less becoming. Not as fly".