US judge blocks Trump's threat to withhold city funding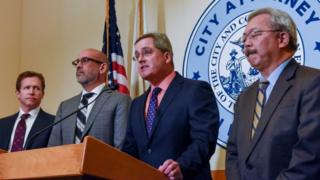 A US judge has blocked President Donald Trump's order barring federal funding for US cities that provide safe harbour to illegal immigrants.
So-called sanctuary cities have been warned they could lose millions in grant money if they do not co-operate with federal immigration officials.
San Francisco and Santa Clara County argued they could lose billions of dollars if the order went into effect.
But a lawyer for the Department of Justice disputed that figure.
Judge William Orrick ordered a temporary injunction on the executive order as the case continues in the courts.