Honduras presidential vote: Both candidates claim victory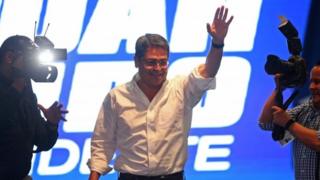 In Honduras, both the incumbent Juan Orlando Hernández and opposition leader Salvador Nasralla have declared victory in Sunday's presidential poll.
Supporters of both candidates have been celebrating on the streets.
With 57% of votes counted, the electoral tribunal has so far given Mr Nasralla the lead.
He has just over 45% of the vote and Mr Hernández just over 40%, the tribunal's president announced in the early hours of Sunday.
Opinion polls conducted before the election suggested Mr Hernández would win the election, but Mr Nasralla had recently made headway.
President Hernández has been heavily criticised by the opposition for standing for a second term even though re-election was prohibited under the Honduran constitution, until a 2015 Supreme Court ruling overturned the ban.
Shortly before the electoral tribunal announced the partial results, President Hernández told his cheering supporters that he was certain of victory.
He was joined by the crowds in shouts of "Four more years!".
Mr Nasralla was equally confident of victory even before the partial results were made public, telling his backers "We are winning!".
Six million voters have taken part in the vote, in which members of congress and mayors are also elected.
Corruption scandal
Mr Hernández has succeeded in lowering the murder rate in one of the world's most violent countries.
He also conducted a purge against corrupt police officers and created a new militarised police force of about 3,000 strong.
Revamped new maximum-security prisons have helped the government regain control over some jails from inmates.
But the opposition have linked Mr Hernández with an enormous corruption scandal within the public health and social security systems, alleging some of the money went into his 2013 presidential campaign.
They also allege his government has become increasingly authoritarian, with a new anti-terrorism law making it a crime to march in protest.