Jerusalem: Turkey warns Trump against crossing 'red line'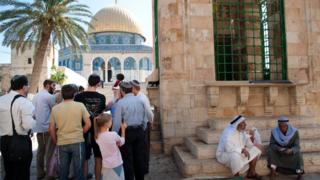 Turkey's president has warned it could sever ties with Israel if the US recognises Jerusalem as its capital.
Recep Tayyip Erdogan said such a move would cross a "red line" for Muslims.
Donald Trump called Middle Eastern leaders on Tuesday amid growing warnings against taking the step.
Reports say the president will dramatically shift the US position on the status of Jerusalem this week. Its fate is one of the thorniest issues between Israel and the Palestinians.
Israel has always regarded it as its capital city, while the Palestinians claim East Jerusalem as the capital of a future Palestinian state.
If Washington recognises Jerusalem as Israel's capital, it would be the first country to do so since the foundation of the state in 1948.
What did Turkey say?
In a televised speech, Mr Erdogan addressed the US president directly, saying "Mr Trump! Jerusalem is a red line for Muslims.
"We could go as far as cutting diplomatic ties with Israel over the issue," he added.
Turkey and Israel restored diplomatic relations last year, six years after Turkey severed ties in protest at the killing of nine pro-Palestinian Turkish activists in clashes with Israeli commandos on board a ship trying to break Israel's naval blockade of Gaza.
Israeli minister Naftali Bennett rebuffed the Turkish president, saying: "Unfortunately, Erdogan does not miss an opportunity to attack Israel.
"There will always be those who criticise, but at the end of the day it is better to have a united Jerusalem than Erdogan's sympathy."
Mr Trump has been having conversations with Palestinian, Israeli and Jordanian leaders a day before his anticipated announcement.
A Palestinian spokesman said President Mahmoud Abbas had told Mr Trump that moving the US embassy to Jerusalem would have dangerous consequences. He said Mr Abbas gave the warning after Mr Trump informed him of his intention to move the embassy.
What is so contentious about Jerusalem's status?
The status of Jerusalem goes to the heart of Israel's conflict with the Palestinians, who are backed by the rest of the Arab and wider Islamic world.
The city is home to key religious sites sacred to Judaism, Islam and Christianity, especially in East Jerusalem.
Israel occupied the sector, previously occupied by Jordan, in the 1967 Middle East war and regards the entire city as its indivisible capital.
The Palestinians claim East Jerusalem as the capital of a future state, and according to 1993 Israel-Palestinian peace accords, its final status is meant to be discussed in the latter stages of peace talks.
Israeli sovereignty over Jerusalem has never been recognised internationally, and all countries, including Israel's closest ally the US, maintain their embassies in Tel Aviv.
Since 1967, Israel has built a dozen settlements, home to about 200,000 Jews, in East Jerusalem. These are considered illegal under international law, though Israel disputes this.
If the US recognises Jerusalem as Israel's capital, it will put it out-of-step with the rest of the international community and reinforce Israel's position that settlements in the east are valid Israeli communities.
What has been the international reaction?
French President Emmanuel Macron told Donald Trump he is "concerned" the US leader could unilaterally recognise Jerusalem as Israel's capital, saying any decision on its status must be "within the framework of negotiations between Israelis and Palestinians".
The European Union, part of the so-called Middle East Quartet of mediators which includes the US, the UN and Russia, warned of "serious repercussions on public opinion in large parts of the world".
Arab League chief Ahmed Aboul Gheit warned it would be "a dangerous measure that would have repercussions".
Saudi Arabia said such a move before a final settlement in the Israeli-Palestinian conflict would "have a detrimental impact on the peace process".
Jordan, custodian of Islamic sites in Jerusalem, has warned of "grave consequences".