Kidnapped Qatari hunting party of 26 'freed in Iraq'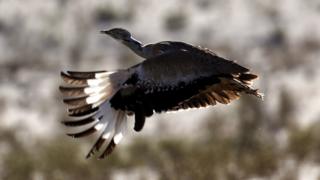 A group of Qatari hunters – possibly including members of the ruling family – have been freed 16 months after being kidnapped in Iraq, officials say.
The Iraqi interior ministry said "all 26" were in Baghdad and would be handed over to a Qatari envoy.
The hunters were abducted by gunmen in a desert area of Iraq near the Saudi border in December 2015.
A large-scale search was launched but very little information was known about the group's whereabouts or condition.
'Four towns' deal
Their release is believed to be connected to a complex deal in Syria involving the evacuation of four besieged towns. However, the Iraqi interior ministry would not provide details.
The Shia Muslim political parties which dominate the Iraqi government are highly critical of Qatar's role in supporting Sunni Muslim rebels in Syria.
Also on Friday, a spokesman for the Syrian Islamist rebel group Ahrar al-Sham told Reuters that the Syrian government was going to to release 500 prisoners into rebel-held territory, as part of a swap deal – of which he gave no further details.
Ahrar al-Sham is reported to be a key player in the deal to evacuate the four towns.
Two of these are Foah and Kefraya, mostly Shia Muslim government-held towns which have been encircled by rebels and al-Qaeda-linked Sunni jihadists since March 2015.
The other two towns are rebel-held Madaya and Zabadani, which have been besieged since June 2015 by the Syrian army and fighters from Lebanon's Shia Muslim Hezbollah movement.
Searching for prey
The Guardian newspaper has reported that an Iraqi militia with strong ties to Iran, a key backer of the Syrian government and its ally Hezbollah, was holding the Qatari hunters.
The hunting party is widely believed to include one or several more prominent members of the Qatari royal family, although they have not been identified.
A Qatari royal and a Pakistani man were freed earlier this month.
Iraq is one of several countries frequented by Gulf Arab huntsmen and falconers as they search for prey that either does not exist in their own countries or which has been almost hunted to extinction there.
Their favoured prey is the Asian houbara bustard, akin to a small turkey, and to find it and other similar species hunters from the Gulf often travel to Morocco, Iraq, Pakistan and Afghanistan.