Wind back in Europe's sails, Juncker tells EU parliament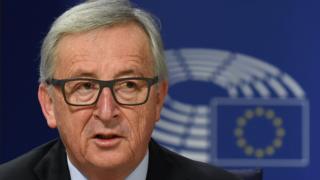 The "wind is back in Europe's sails", European Commission President Jean-Claude Juncker has said in his annual state of the union address.
He said there was a "window of opportunity" to build a stronger, more united union – but it "wouldn't stay open forever".
Mr Juncker said the EU had made economic strides in the year since his last such address.
He was expected to champion free trade in the 90-minute speech in Strasbourg.